Easton S450
Hey everybody, let's look at another great Easton baseball bat: the Easton S450.
Real quick, if you haven't signed up for my newsletter I suggest you do for awesome discounts, access to my private articles, and first dibs on giveaways and such.
Anyways, here is one of my new favorite Easton baseball bats that arrived this season.  It is simple, inexpensive, and has great features to it.
The Easton S450 comes in youth and adult sizes so I'll link and write about both of them below.  Just a reminder, adult baseball bats are for senior leagues and above, and youth baseball bats are for little leaguers and baseball around that age.

Background on Easton
If you don't know Easton, just know that they are one of the best baseball manufacturers in the world.  Right now I would say that they are leading the metal bat game.
You can go out and look at other metal bats, and they can be good, but probably not as good as Easton.
Easton has been around for a long time, I even used their bats when I was a youth player.  I had an Easton Stealth Speed which was the best bat I had when I was younger (I still have it).
That's just a little about Easton and my experience with it.  I would rate their company 10/10 because of the advancements that they made to baseball games around the globe.  Now I'll shut up and get to the part you really want.
Design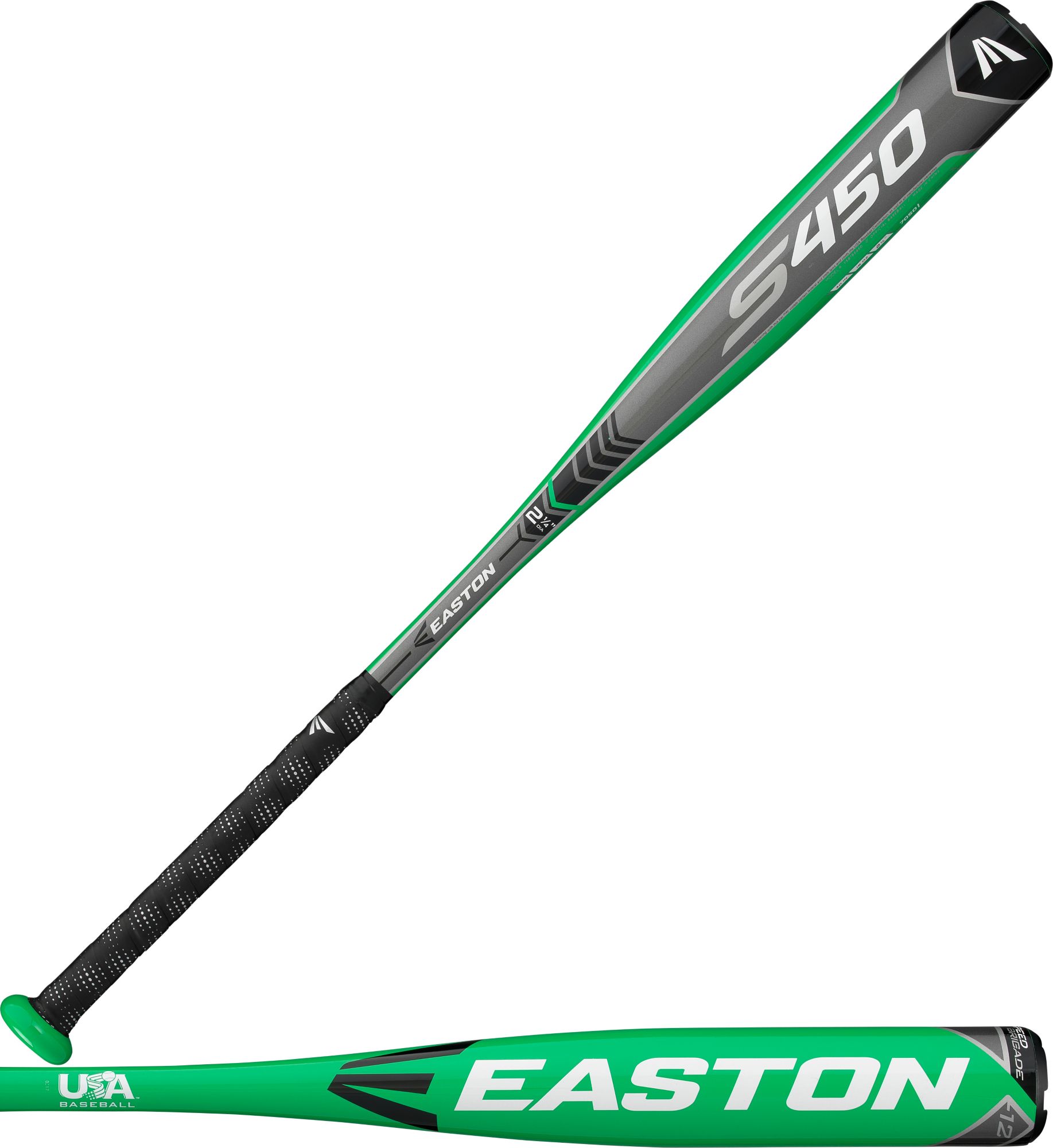 To start off, the 2018 Easton S450 has an adult version and a youth version. The adult version (-3) has the grey/green barrel and the youth version (-8) has the black/green barrel.
Alx50 Military-Grade Aluminum
Both bats are made of Alx50 military-grade aluminum.
I know this might be alarming that your child is using metal that is used in the military, but it's actually a good thing. Military-grade just means that the aluminum is super-strong, therefore making it more durable. 
Also, the stronger the material, the more pop the bat has. This is why wood baseball bats don't hit as far as metal baseball bats.  The 2018 Easton S450 is like a stronger version of other metal baseball bats. 
Increased Durability
The second part of this bat is the durability since this is a need for the little ones.  Bats are thrown in the dirt, dropped on concrete, or dragged to the car.
All of this is sometimes inevitable so it is important to have a strong and durable bat.  Like I said before, this is made of military-grade aluminum, so how much stronger does it get?  Not a lot let me tell you, my friend.  This material will help with all of the knicks and dinks that you will make on it.
Concave End Cap
Another design feature on this bat is the concave end cap. What this does is it gets rid of the unneeded weight that is on the end cap, which allows a faster swing.
After all, the Easton S450 is part of the speed brigade series, which means that it has to be fast.
This is uncommon on metal baseball bats so it is cool to see Easton changing the standard for metal bats.
Loud Barrel
Wanna wake the neighbors?
The last design feature that I will talk about is the loud sound on impact.
There are a few implications to this, one of them being a practice tool. Now you can hear how well you hit the ball if you are practicing.
The other way that this benefits you is that you let everyone know that you're up at the plate. I don't know about you but I like letting everyone in town that Chris is at the plate.
Performance
Speaking of performance, there is a lot of pop on this thing.
Pop
The pop is what I expect from an Easton Baseball bat. It's pretty good for the price that you're paying here.
Usually bats with this price range are not that good in the pop region. That is one thing that I noticed that could be a weak point to the Easton S450.
Well, it is actually quite the opposite since it has that military-grade aluminum. A lot of people that I know that use this bat tell me that the pop is average. After using it myself I think it is ten times better than what it should be.
Durability
For all the youngsters thinking about this one, it is as durable as any metal baseball bat. It has a good metal material that will keep it together from all of the wear and tear that you can bring it. There might be some nicks or scratches but you can pretty much expect that for any baseball bat.
I typically tell people that if the player is young, go for a one piece baseball bat.  This is because it's easier to swing and most of the time cheaper, which I care about a lot.
Overall this is an awesome baseball bat for any little one because of the military grade aluminum, one-piece design, and good price range.
Adult Size (-3)
The Easton S450 comes in two sizes like I said. The Adult size is the drop three (-3) swing weight, which makes it heavier. Even though it is heavier, it has a bigger barrel which allows you it harder and farther. The adult size is not priced that much higher and is a great option for high schoolers.
I know that around this time you're trying to save pennies for college so this is a great option that will not break the bank, but still, have great performance. Click the button below to buy the Easton S450.
Youth Size (-8)
Here is the second size of the Easton S450, which has a swing weight of drop eight (-8). I think that this is a great option for all of those little tykes out there that love baseball. This bat has a giant barrel, which like I said before makes it a little easier to hit the ball. I know that I would've liked a big barrel like this in little league.
If you want to check out with this bat for your little leaguer I linked the button below to take you to this bat on Amazon.
Overall
I can say after taking a look at the Easton S450 that it has a great design and Easton made a right choice by making the speed brigade series. It is a great option for those people who aren't looking to spend that much money for an awesome baseball bat.
Believe me when I say that I know where you're coming from. And you can trust that I would get this for my little leaguer.
If you want something that has more qualities to it then you can look at the Easton S650 in this series. It's the same thing just a bigger price and a little more quality in the bat.
If you don't need this much in a baseball bat then you can look at my review on the Easton S150.
Thanks for checking out the review guys I really appreciate it. If you guys want a honest review on all things baseball make sure you stick with me, kid.
Lets Be Friends!