Easton Mako Torq vs Beast
Hey everybody, today we're going to be looking and comparing two dominant bats that Easton released. The Easton Mako Torq and the Easton Mako Beast. There has been a lot of requests for me to make a review that looks at these two brother bats and seeing which one comes out on top.
In my opinion, I like both of them but keep reading to find out which one has the advantage.
If you want to read the full review on either of these awesome bats, click here for the Easton Mako Torq review and click here for the Easton Mako Beast.
If you guys didn't know, a Mako is a type of shark. That is exactly what I think about when I see these bats since they attack the ball with aggressiveness. There has been a lot of rant and rave about which one is better, but really you have to look at the specs and performance.
That is exactly what we are going to look at in this review, in close detail. Let's get right into this.
Easton Mako Beast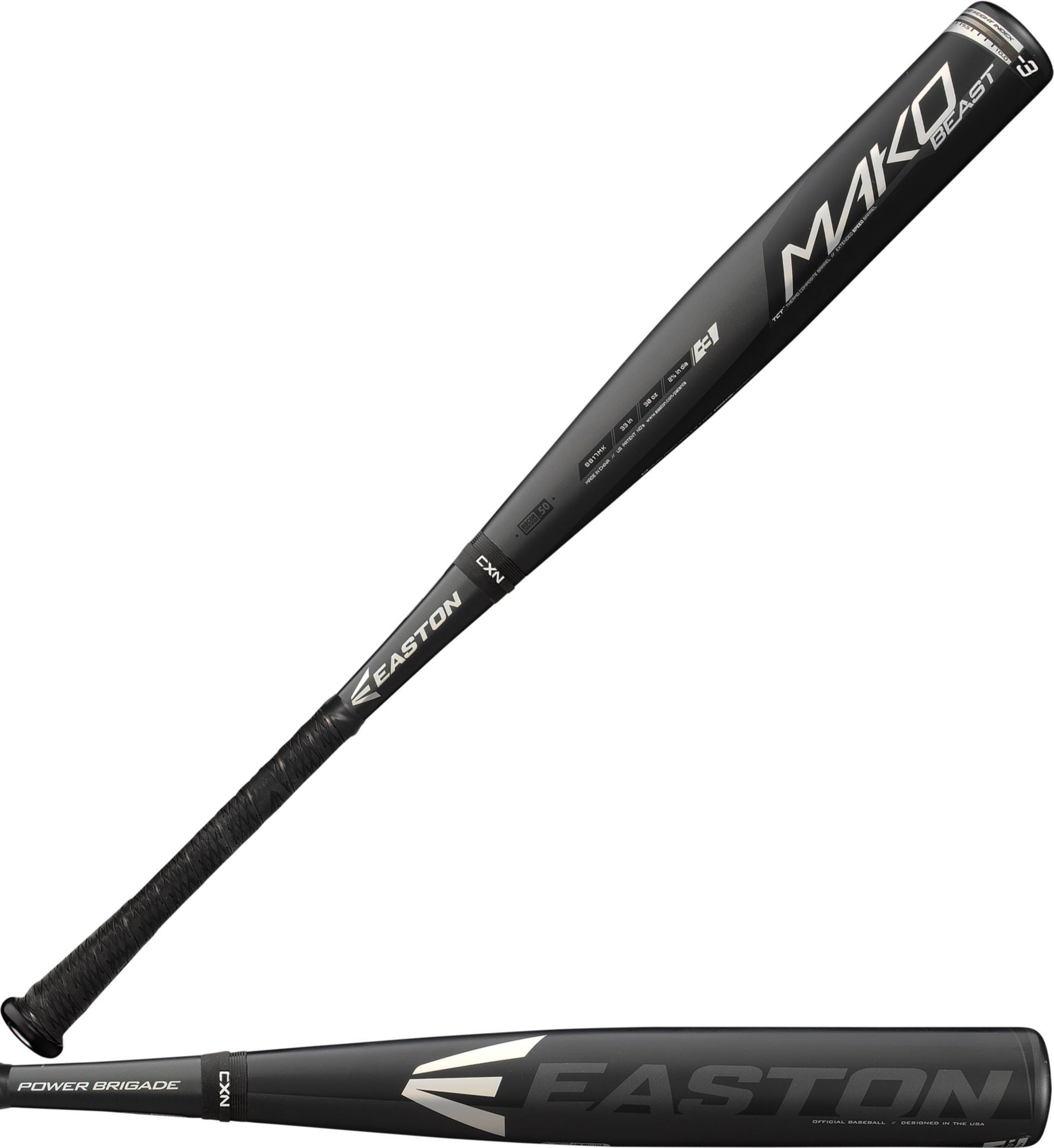 Before we get into the comparing of the two bats, we have to look at them separately.
The Easton Mako Beast has been the bat of a lot of talk this year. I know that it isn't the most popular, but most deem it as underrated. If you have not heard about this bat, consider being lucky to read this review.
Some of the best things that I like about the Easton Mako Beast is the price range for it. The Easton Mako Beast is a quality, name brand baseball bat which would usually be pricey. Lucky there is not a huge price tag on this one.
One of the biggest design features of this bat is the two-piece design. This isn't a big deal to some players but there is some technology that is woven into this two-piece concept.
ConneXion Technology
One thing that we'll look at is the ConneXion technology that Easton utilizes. This ConneXion tech that is implemented basically gives you a smoother swing through the zone with better energy transfer.
Energy transfer is important in every single swing in baseball. If you lose energy through the swing, the ball doesn't go as far. That is more work for fewer results, which is why I appreciate the ConneXion piece that is in the Easton Mako Beast.
Thermo Composite Technology
This is basically the technology that went into the design of the material of this bat. It makes the Easton Mako Beast more durable, which means you can use it for multiple seasons.
Even though it is strong, it is light as well so you don't have to lug around something too heavy just so you can have durability. Thermo Composite Technology is just one of those things that are advancing baseball bats to the next level.
Performance
The Easton Mako Beast has some great pop because of all of the awesome technology that was integrated into this bat. Some of the key features of the performance of this bat include great pop, great durability, and smooth swing.
The pop of the Easton Mako Beast comes from the Thermo Composite Technology that was introduced. With that technology, there is a harder metal that is being used in the barrel.
I know you're probably thinking that every baseball bat has hard metal. I thought this as well but I realized that the metals used are different and can create different pops, sounds, and can help you keep the bat season after season.
That brings me to my next point how you want to have a bat that you can use for at least more that one season. I am not promising anything but the Easton Mako Beast is a high-quality bat, which means it tends to break less. Other metal bats can sometimes break in less than a season.
The last point that I'll touch on about the performance of the Easton Mako Beast is the smooth and light swing that is integrated into the design of the bat.
The ConneXion piece that literally connects the two pieces of the bat together is a great feature in a lot of Easton baseball bats. The purpose of it is to give you better energy transfer, which leads to you swinging through the ball easier.
Another thing about the smoothness of the swing is that the two-piece design causes it. Sometimes the bat manufacturer can alter the weight distribution since it is in two pieces instead of one.
Pros:
Great Pop

Quick through the zone

Great price for a high-quality bat
Cons:
There is no wow factor that is integrated into this design
Like I just stated in the pros of the Easton Mako Beast, there is no wow factor to the design of this bat compared to the Easton Mako Torq. For some people, that is a wow factor in itself since some players just want a basic bat.
The way that I would describe this bat is a high-quality bat that can get the job done. Simple.
Easton Mako Torq
The Easton Mako Torq offers lots of range and potential in those who use it. It has many key features that really add to the overall ability of the bat.
I've used this bat a couple times throughout many seasons and it is quite a game changer. It is helpful to many as this will help create the perfect that swing for maximum user ability.
No single bat is for everyone but this bat can and most likely will be useful to young baseball players who want to change up their game.
This bat is very comfortable and new to many people as the idea of Torq technology is not used in any other baseball bat.
The biggest feature of this bat is its 360 Torq handle technology which rotates with every swing to help get the bat to the zone as quickly and smoothly as possible. This will help result in the user's maximum ability to crush whatever ball is coming their way.
To know a little more about this tech click here.
Design
Now just to clarify this bat definitely does not just magically make the best hitter on your team. The concept of this technology is to allow you to be in the power position anywhere in the zone.
This design will definitely help with the basic principles needed to get the most out of your at-bats.
This bat is designed with many features that add to its greatness.
Thermo Composite Technology
Its TCT or Thermo Composite Technology allows for a massive sweet spot that raises the potential of a big hit. Along with the Torq handle, this will raise the Easton Mako Torq bat speed and boost the consistency of getting it on that sweet spot.
ConneXion
The Easton Mako Torq is made with a ConneXion two-piece composite technology that maximizes the energy transfer from the bat to the ball giving the batter the most power in your swing.
Overall the design is very good and worth it as it will last seasons and will not let you down.
Performance
The Easton Mako Torq is designed to correct and better the swing that the player really wanted. Its simple technology is unique in the fact that no other bats use this.
This bat is most wowed about for its consistency in well hitting. The revolving handle makes for fewer strikeouts and more bat contact. This extra ball contact is developed from the better swing that the bat gives to its batters.
The Easton Mako Torq will not let you down as along with its handle technology it has the other components that Easton bats also have. It's conneXion and Thermo Composite Technology give this bat the same light and powerful swing that is wanted.
Pros:
Has a wow factor (360 turning handle)

Around the same price as the Easton Mako Beast
Cons:
Takes a little getting used to the handle

Only comes in one bright green color
Torq vs Beast
In my personal opinion, I say that I like the Easton Mako Beast better than the Easton Mako Torq. There are a couple reasons for this.
One reason why I like the beast better is because I'm a simple guy and the Easton Mako Torq is just a little weird for me. When I would swing with the Easton Mako Torq, I don't like the way that my bottom hand moves. It just does not feel right for me.
The other thing about why I like the Easton Mako Beast a little more is that it is just a simple bat. That is all you need to hit the ball. Sure there are some enhancements that can make it better for some but in terms of everyone, I think the Easton Mako Beast wins.
Now, I am not saying that the Easton Mako Torq is a bad bat. I actually like that new technology and I really encourage all baseball players to try it out. In my personal opinion, it just didn't work for me.
A bat that almost perfected what Easton was trying to do here was the Axe Bat. If both technologies were combined then I'd be more satisfied with that design.
Final thoughts
To sum up both bats, The Easton Mako Beast and the Easton Mako Torq offer great potential to a baseball players at-bats.
The Easton Mako Beast is most effective for power hitters, along with contact hitters. The Easton Mako Torq is most effective for the fewer contact hitters or those who want to perfect that swing and prevent the bad uppercut or chop swing.
Thanks guys for looking into this article and be sure to look at the full reviews of these bats.
Lets Be Friends!